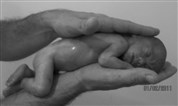 Creator: Debb & Christopher M
Close at Monday, 4 February 2013
Xavier Christopher Meyer
Our little angel Xavier was born at 25 weeks due to a placenta abruption which affects less than .05% of all pregnancies. Our placenta moved away from my womb and in our case caused rapid labour.

There was no time to stop the labour which meant that our Xavier had to be delivered by emergency caesarian. This meant that my life was saved and Xavier had the best chance for survival. Heartbreakingly, whilst he was absolutely perfect and his lungs were super strong, his little heart wasn't beating with the right strength and we had to make the horrendous but right decision to send him to heaven.

One of the most harrowing experiences was handing back our dead angel to the nurse and walking from the hospital empty handed. A memory that will haunt us forever.

We made a pact that day that we will find a way to ensure our angel Xavier's legacy will live on. We were blessed to be touched by Bears of Hope during our heartache and as such have chosen to partner with them to see Xavier's legacy live on.

Our partnering with Bears of Hope will be focussed on developing the neo natal death area of the charity. We intend to do this in two distinct ways.

1) Raise money to develop a Xavier's Bear which will be given to all parents who lose their angels to neo natal death. Instead of walking out of the hospital alone, they will be given a Xavier Bear to hold as they make the long and lonely journey home to their empty nursery. They will also know there is an amazing community of parents who have lived their pain and who they can call on.

2) Raise money to pay for psychologists for each region in NSW to help support parents through their darkest hours and help them on their journey to healing the loss of their beautiful angel.

We feel extremely proud and humbled to know that as a result of our angel Xavier's passing, he will continue to touch people's lives forever.

Within a few days of losing Xavier, we learned that at least 10 people we know, had also lost a child. Unfortunately, the chances of someone in your community of family and friends experiencing this loss is high. So therefore, we would love to encourage your network of friends and family to donate to Bears of Hope in honour of Xavier. Simply send them the link to Xavier's page.

From the bottom of our hearts, thank you for your love and support. We are eternally grateful both now in our darkest pain and in the future.

We hold onto hope that Xavier's passing to heaven will provide immesasurable love, support and hope to many other parents suffering our pain.

All our love,

Debb and Christopher Meyer
Bears of Hope Pregnancy & Infant Loss Support Incorporated
Bears Of Hope Pregnancy & Infant Loss Support is an Australian not-for-profit organisation based in Sydney NSW, with a vision to provide leading support and exceptional care for families who experience the loss of their baby. This includes miscarriage, stillbirth, genetic interruption, neonatal and infant loss.
The organisation donates exclusive bears of hope throughout Australian hospitals (within a vital support package) to comfort, support, inform, guide and empower parents through the first few days of their loss and beyond. Bears are also donated directly where not received through the medical system.
Our Beyond The Bear Support Services include an informative and resourceful website, Parent-led support groups with some faciliated by psychologists, Online support groups,  Skype Support Sessions, Community Events ( Mother's and Father's Day events, Sydney City2Surf, Annual Benefit Ball, October 15 Remembrance Day events, Christmas picnic), Phone and Email Counselling, Workshops, Hospital In-services, a Hope & Healing Library and a Quarterly Newsletter.
General Enquiries 1300 11 BEAR
Grief Support 1300 11 HOPE
Fundraising enquiries: 0400475012
FUNDOMETER
Target
$50,000
Raised So Far
$56,507
Biggest Supporters:
Mummy and Daddy: $3,000.00
Carl & Belinda Richards: $3,000.00